FREE SHIPPING
No Tax,
FULL 2 YEAR WARRANTY!
Top of the Line Fully Upgraded Urban 1500 Watt 48v Elite Lithium Electric Fat Tire Bike, 30+ mph & 70 miles per charge
1500 watts produces Speeds up to 30+ mph*
Up to 70 miles per charge*
Front LED headlights and rear LED brake lights included
Free Cell Phone Holder and Water Bottle Holder included
Key lock and Waterproof 48v 15.6ah Lithium battery (highest quality UL listed)
Huge 26 x 4″ Fat tires that can power you through soft sand on the beach, snow, or any mountain trail
FREE Shipping, No Tax, FULL 2 YEAR WARRANTY!
HUGE SUMMER SALE!  SAVE $500 OFF THIS E-BIKE THIS WEEK ONLY!
Free Shipping To The Continental USA
 MADE HERE IN USA FOR QUALITY INSURANCE & KEEP AMERICANS WORKING, not China. 
1500 Watt Elite E-Bike
1500W BRUSHLESS GEAR HUB MOTOR
Indulge in up to 90NM of high torque with our dependable raw reduction gear, accompanied by a sturdy chip providing stable signal processing.

1500W BRUSHLESS GEAR HUB MOTOR
What is the difference between a brushed and brushless electric motor? The basic difference is: brushless motors are a more advance technology that produce double the Power & Torque, run cooler, are more efficient and longer lasting. For a more detailed difference simply Google "Brushed vs Brushless Motors".sing.
48V 15.6AH HIGH-TECH LITHIUM-ION BATTERY
Power your e-bike with our trustworthy 48v 15.6ah lithium battery, delivering superior performance and longevity. As a critical component, our batteries ensure longer and more efficient rides. Ride smarter and farther.
Range up to 70 Miles Per Change
Scooter Kings is introducing the all new 2024, 1500watt Elite watt Lithium Fat Tire 48v E-bike. Highest motor output with 1500watts of torque with a peak torque at take off around 1500watts. We have spared no expense on this new 2024 e-bike that has all the upgrades possible. This  e-bike has the most powerful 1500watt rear brushless hub motor you can put on an e-bike boasting speeds over 45mph and has a very powerful lithium battery that can take you up to 70+ miles on a charge all with pedal assistance.  MADE HERE IN USA FOR QUALITY INSURANCE & KEEP AMERICANS WORKING, not China.  This is one of the best electric fat tire e bike you will ever own and built with high quality parts and made in America.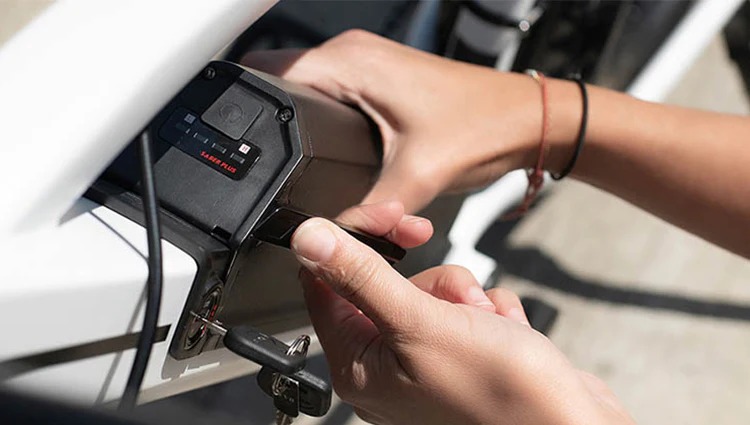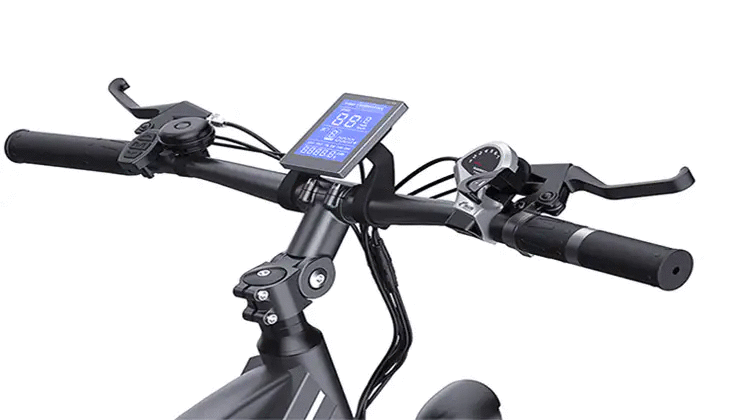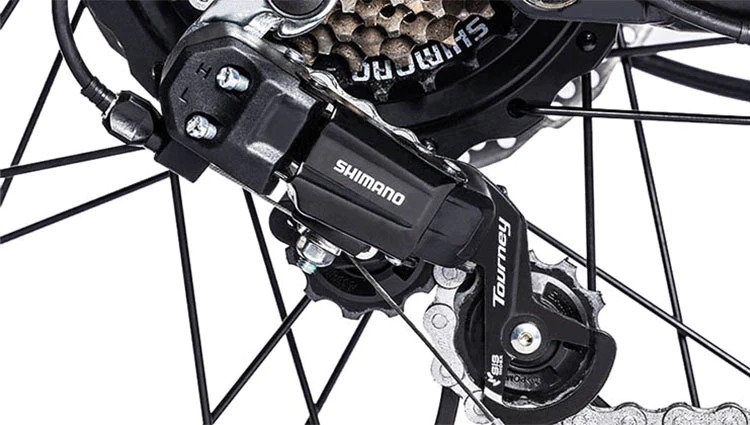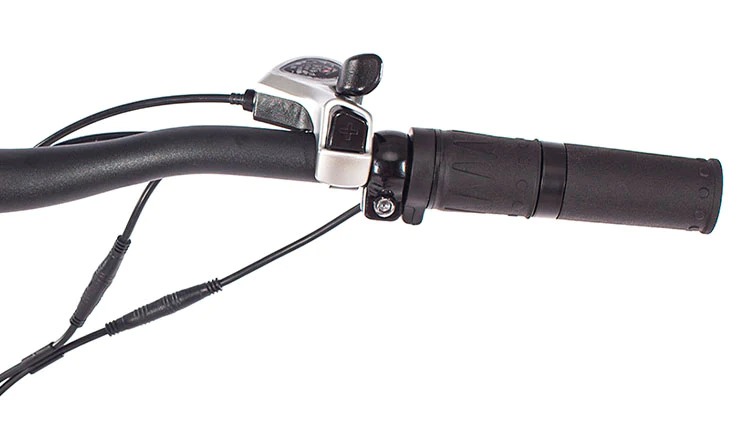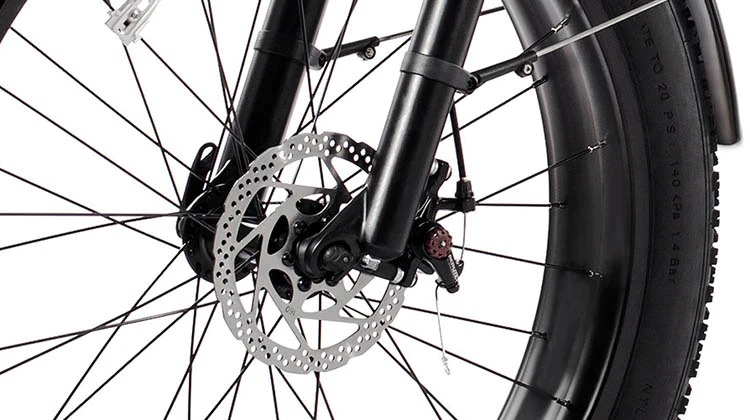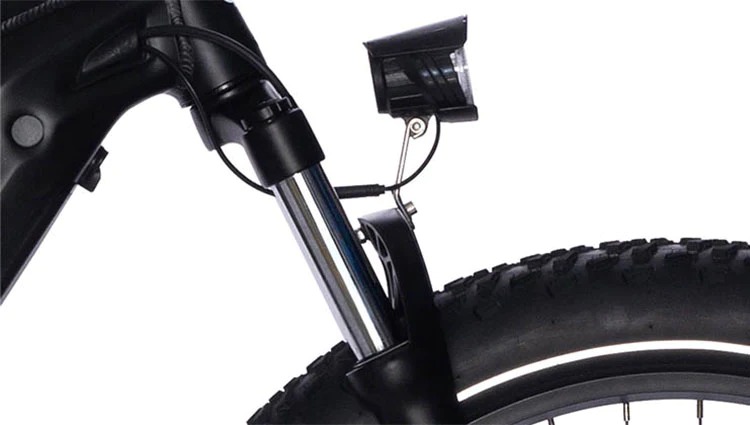 About the Urban 1500 Watt Elite E-Bike
This is the Ferrari of all electric bikes. Highest motor output with 1500watts of torque with a peak torque at take off around 1500watts. Fully upgraded 26" fat tires, LED screen, electronic touch pad controller, luggage rack, front and rear LED lights, free cell phone holder, adjustable stem, front and rear mud guards, 7 speed shifter, etc..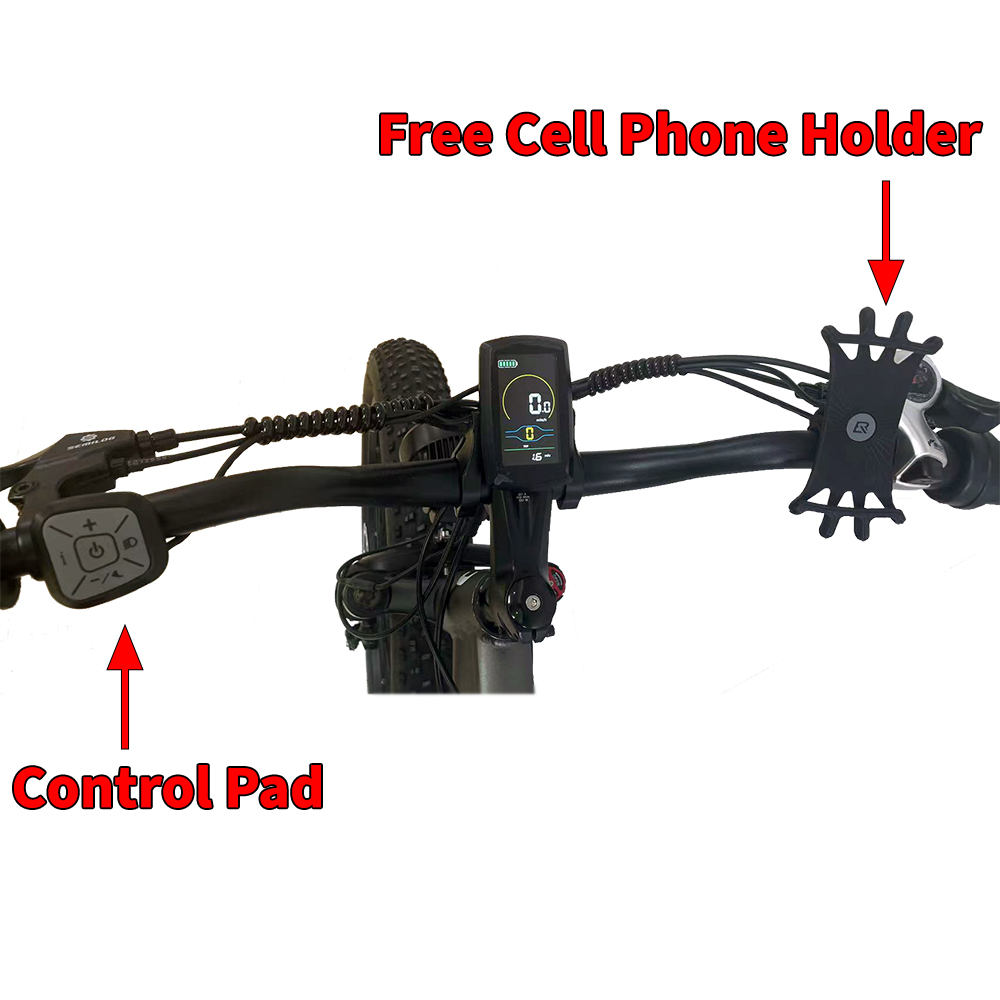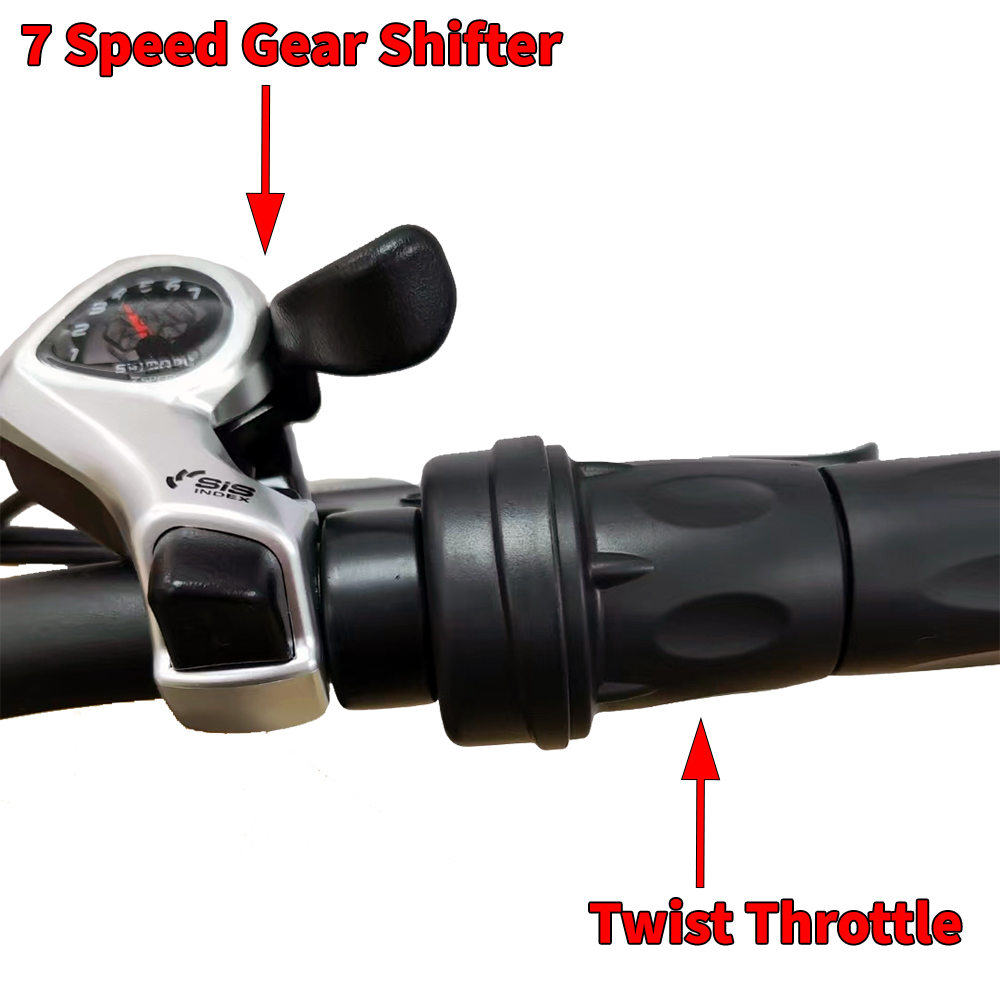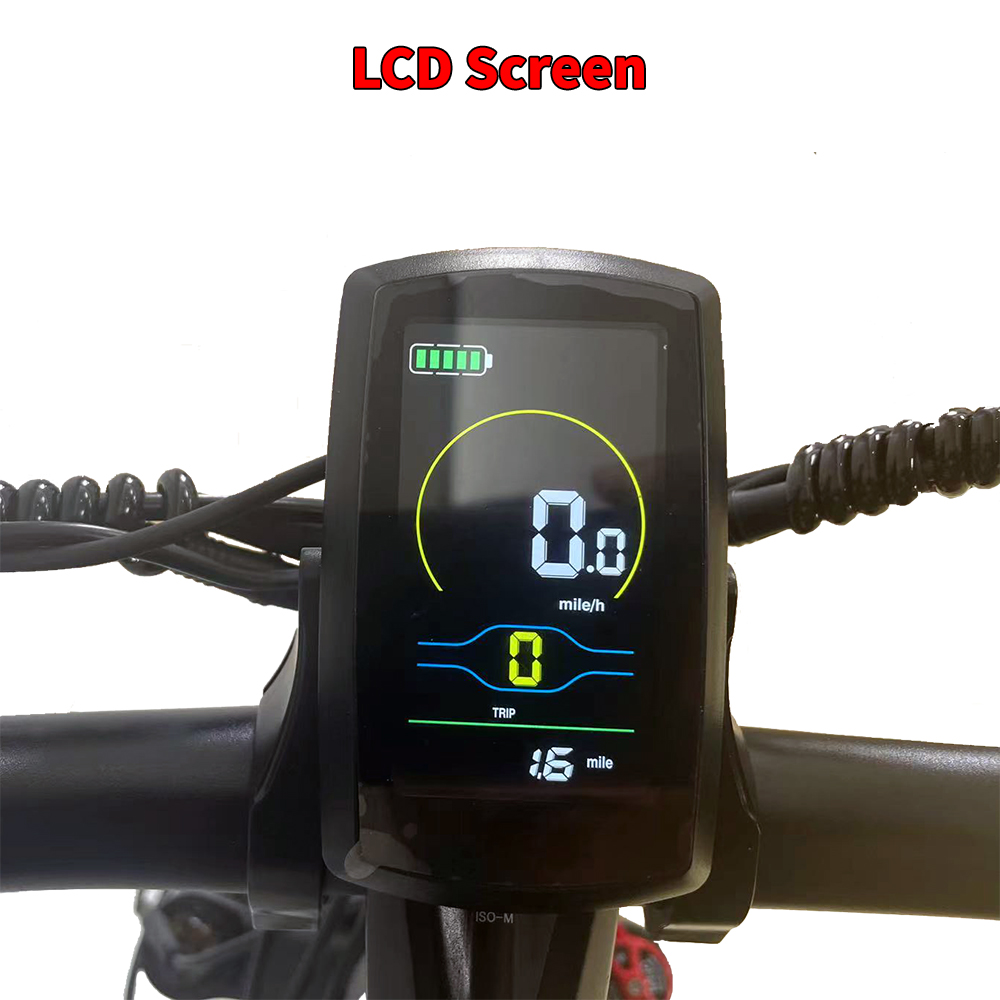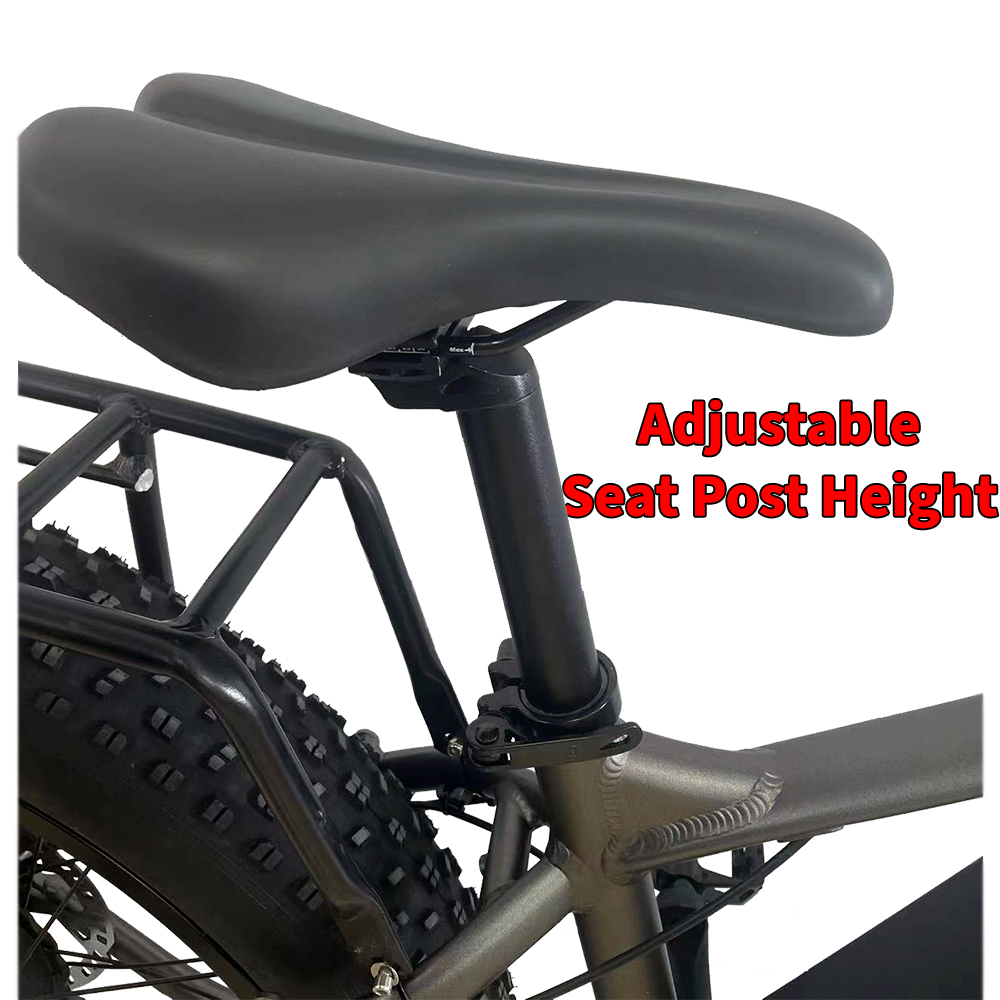 No other company knows electric scooters like we do, so give us a call or email if you have any questions at all (772-232-6394) we would be more then happy to talk with you.
Urban 1500 Watt Elite E-Bike Specifications
MOTOR:

 

Rear brushless hub motor. 1500 watts NORMAL RIDING. 

Highest motor output with 1500watts of torque with a peak torque at take off around 1500watts

BATTERIES:

 

Highest Quality

 

LITHIUM

 

48v 15.6ah Lithium Battery Pack (UL listed). BATTERY LIFE is 1400 cycles on average.

CHARGE SYSTEM:

 

110V Lithium Smart Charger 2-color LED status indicator. Fast charger included and will charge a fully dead battery in less than 5 hours.

CONTROLLER:

 

Hi-Tech 48v 25amp Smart Power Control Box

TOP MAX SPEED:

 

up to 30mph on a flat road with no pedal assist. 30+ mph with pedal assist. (both vary based on rider weight and terrain).
RANGE:

 

Up to 30 miles with no pedal assist. (based on 150lb rider, avg speed & flat road). Up to 70 miles per charge with pedal assistance.

DRIVE:

 

Chain

BRAKES:

 

Disc / Caliper (Front & Rear)

WHEELS:

 

Alum. Mag Rim

TIRES:

 

Huge 26" x 4″ Off / On road Fat tires

FORKS:

 

Full Adjustable Front Suspension

FRAME:

 

High-tensile Steel & Aluminum

NET WEIGHT:

 

68 LBS

MAX RIDER WEIGHT:

 

350 lbs.

COLORS:

 

Black or White

PACKING SIZE:

 

61″ x 16″ x 33″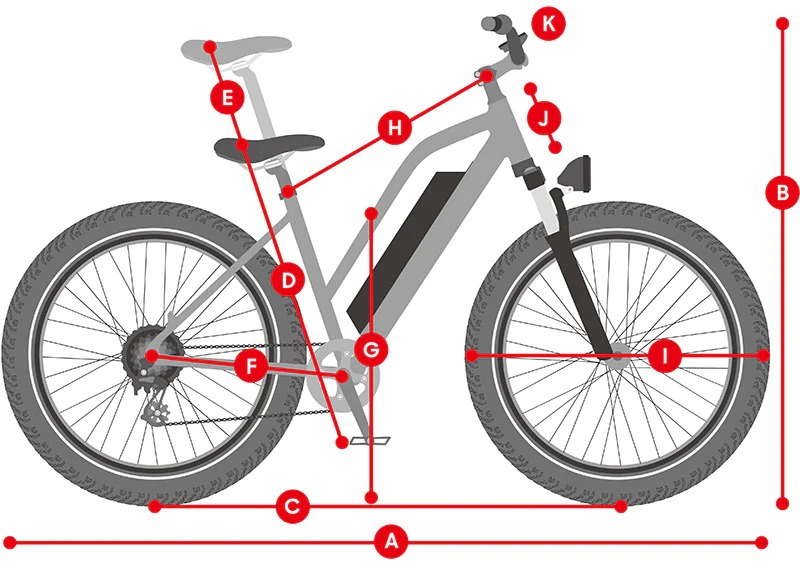 A — Total Length

 

75″

B — Handlebar Height

 

45″

C — Wheelbase

 

46″

D — Minimum Seat Height

 

27″

E — Maximum Seat Height

 

35″

F — Chain Stay Length

 

19″

G — Standover Height

 

28″

H — Top Tube Length

 

23″

I — Wheel Diameter

 

28″

J — Head Tube Length

 

6″

K — Handlebar Length

 

26″

Add Trailer Accessory 

$20

0.00

HERE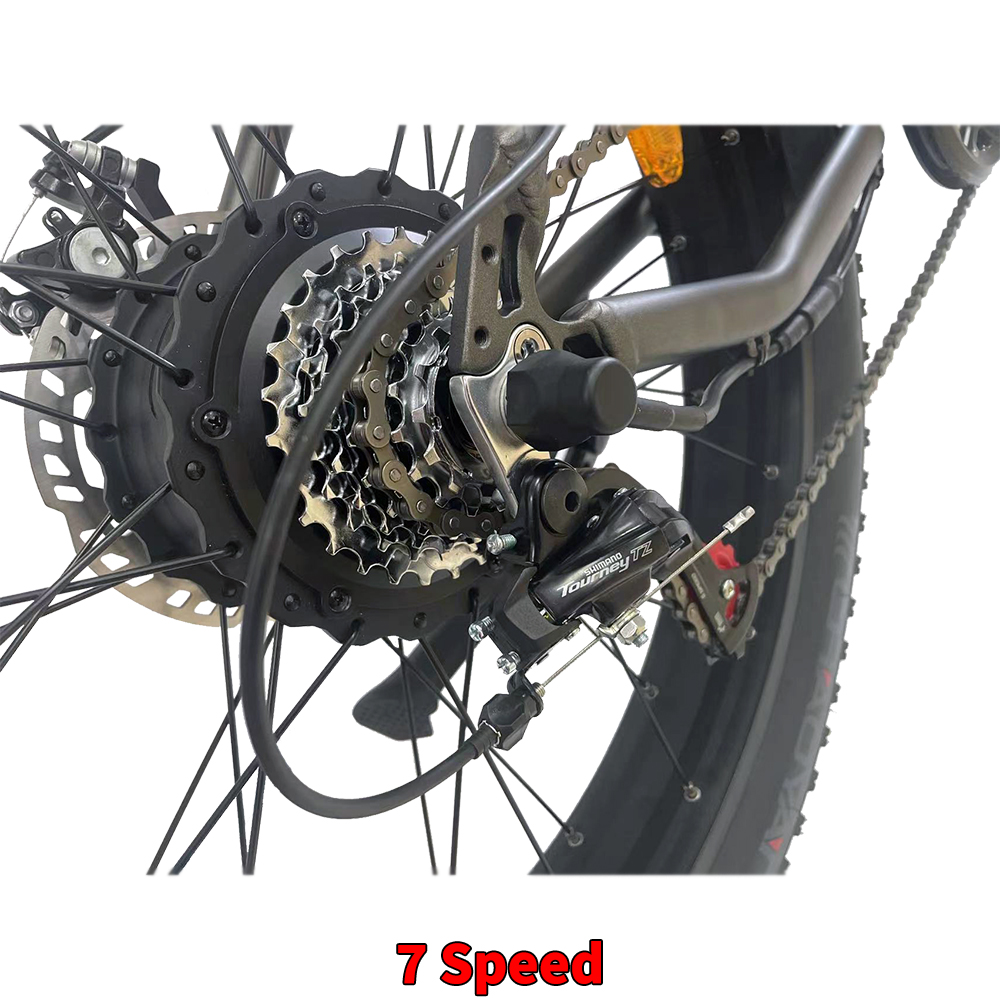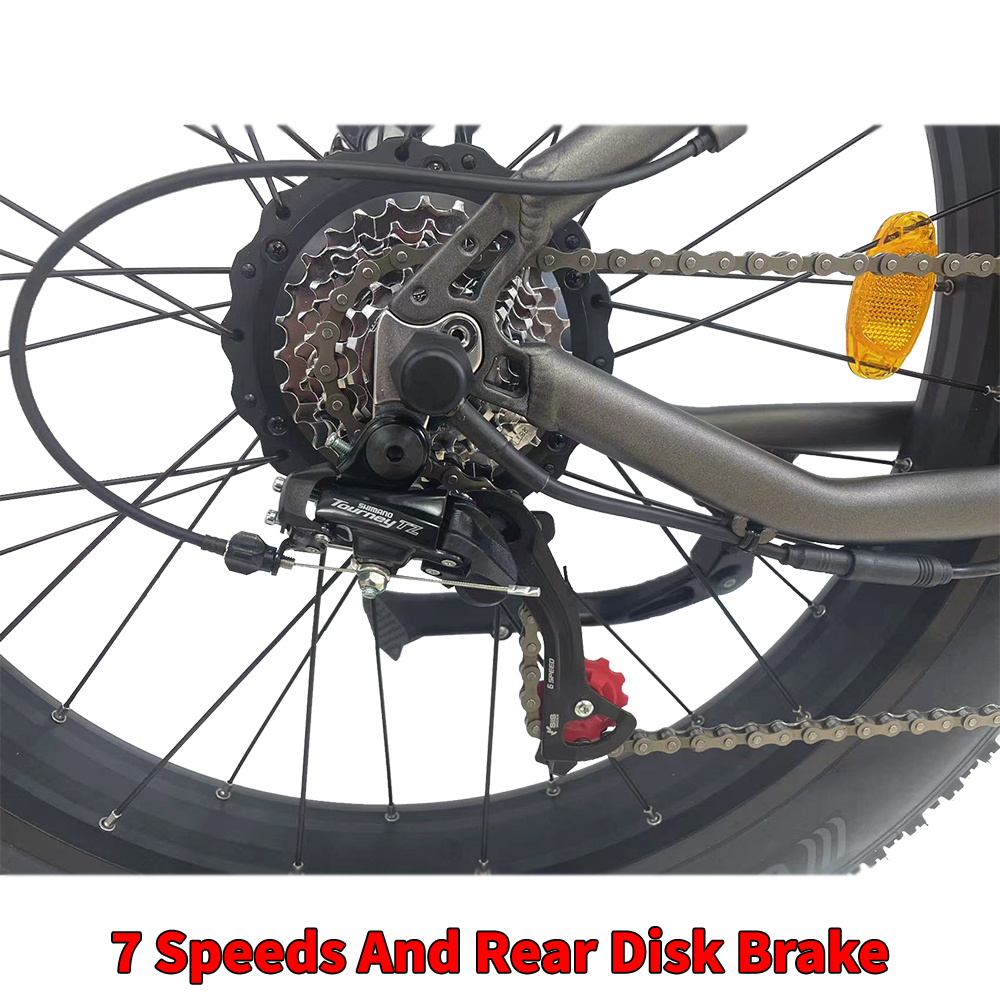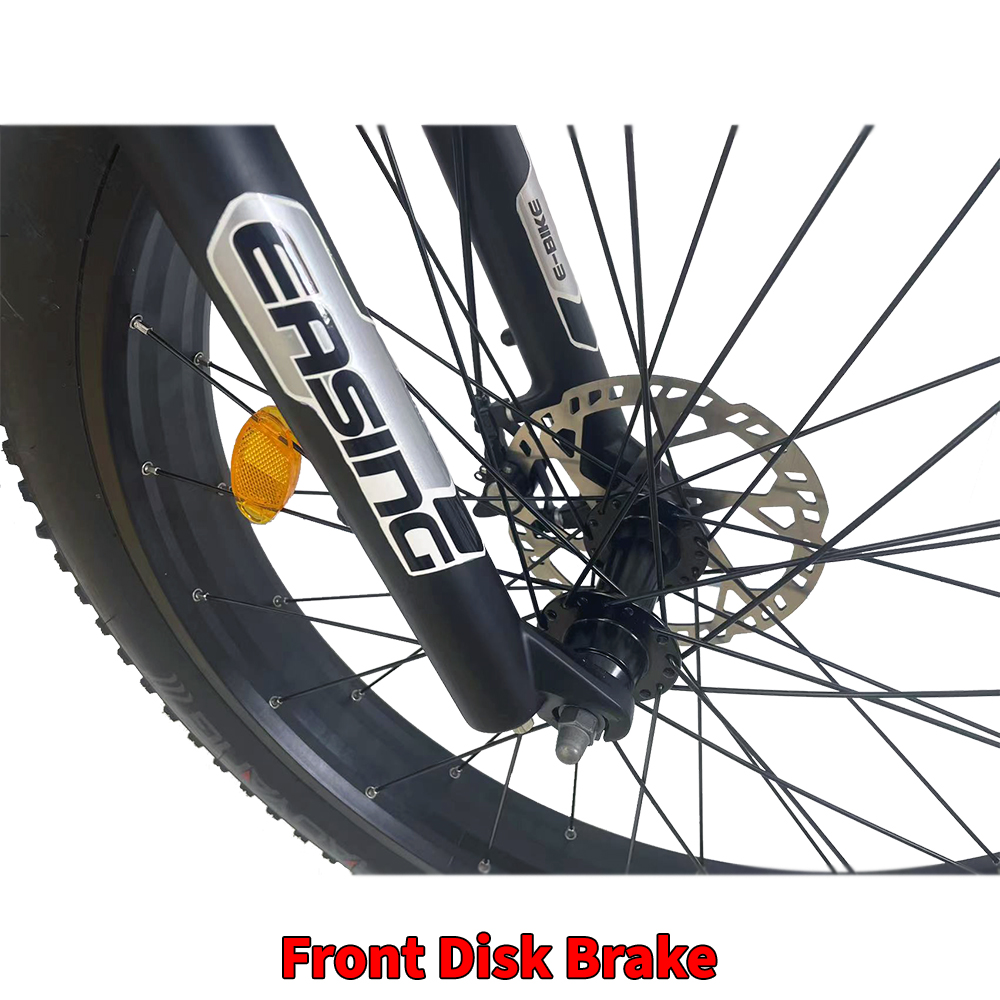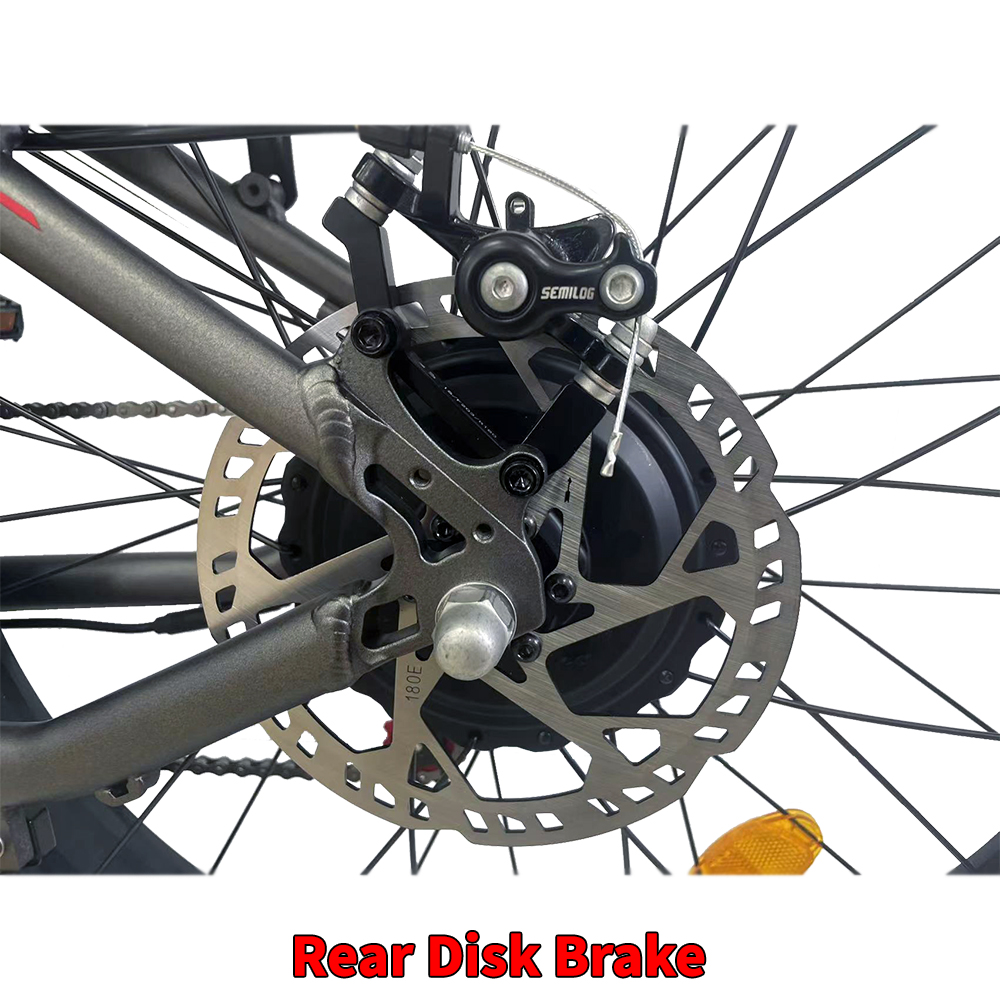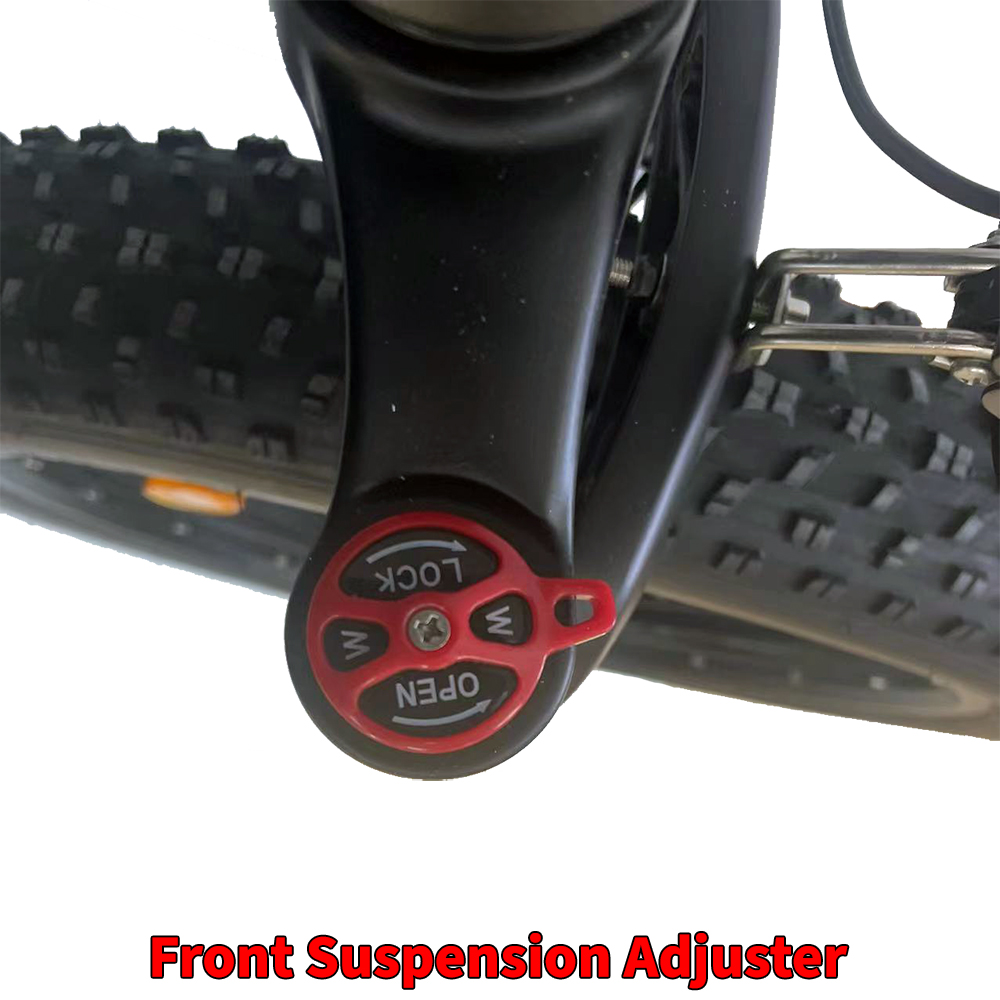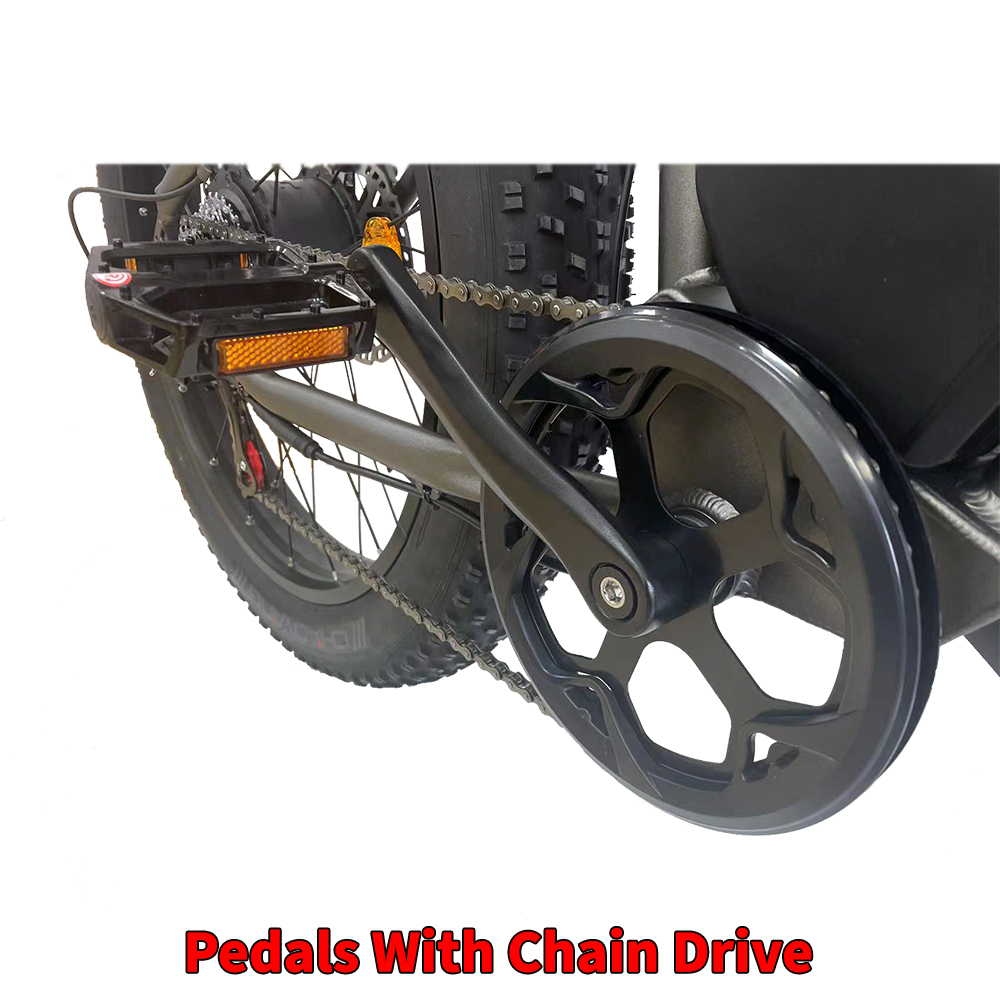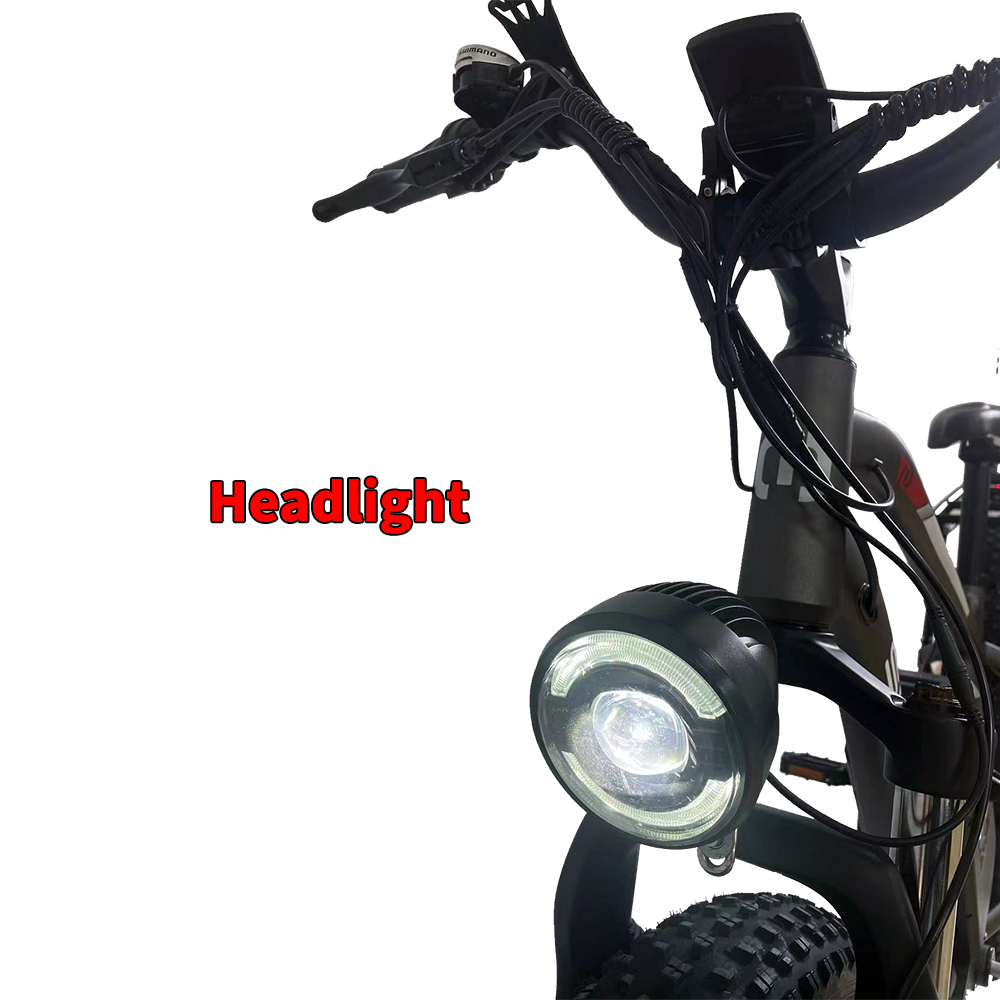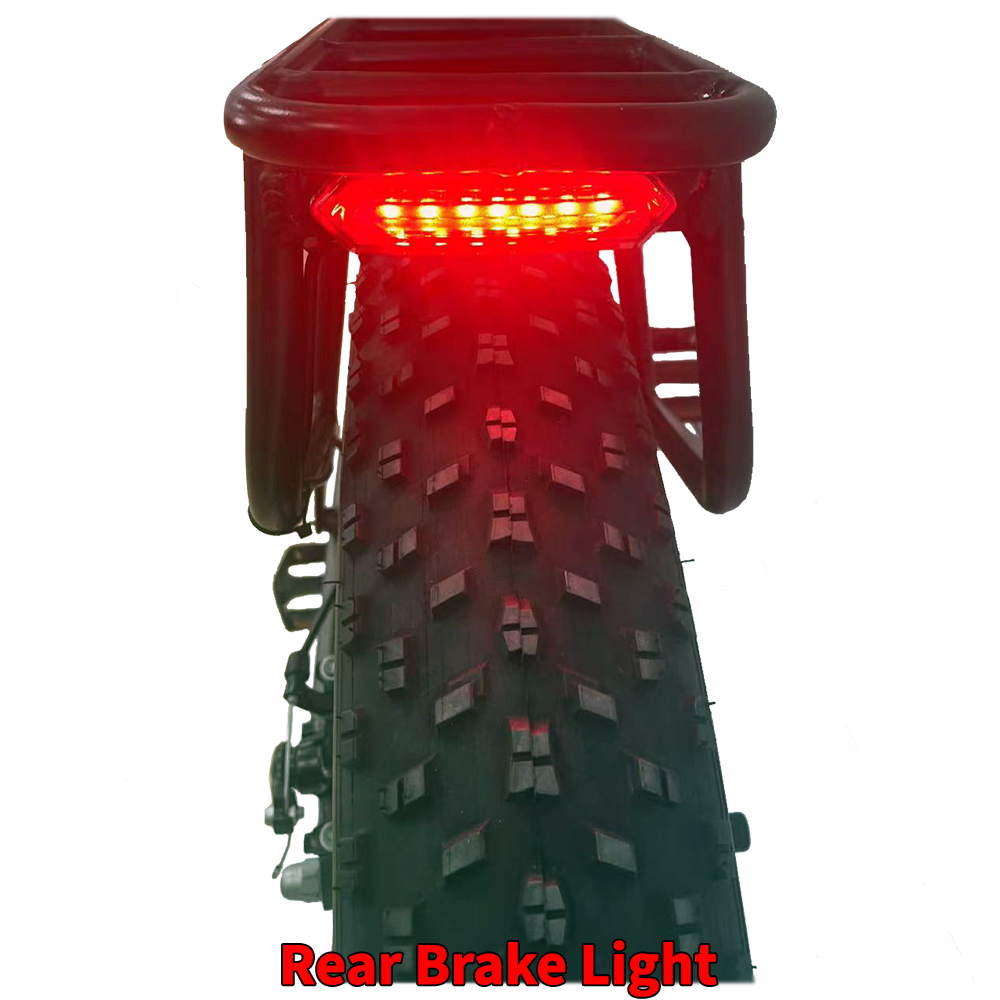 Disclaimer:
 Scooter Kings Inc's products (electric/gas motorized scooters) are designed for recreational and/or for personal transportation of a single rider with proper safety equipment. It is not suitable for handicapped persons or persons with limited mentality or physical capacities. The product is to be used only on safe, dry, smoothly paved or hard packed surfaces, in accordance with local regulations, during daylight hours. Please remember to always wear a helmet! There are inherent dangers to using motorized scooters. Purchaser shall use products at their own risk, SCOOTER KINGS INC will not be held liable under any circumstance for incidental or consequential loss or damage or injury due to the direct or indirect use, misuse or abuse of any product purchased from SCOOTER KINGS INC, including any malfunction. Although there are no uniform legal age restrictions for the use of motorized scooters, we recommend that only individuals of legal age use any of the scooters sold by SCOOTER KINGS INC. Children may use products under adult supervision and under the guardian's own discretion. Check with your local authorities for area specific rules and regulations. Adult guardian assumes all responsibilities associated with the use of these products by minors. Customers understand that the use of these products can cause injury or death. To prevent it, we strongly recommend the use of the safety equipment such as helmet and knee pads. The user holds Seller and his agents harmless from any liability. Purchaser obtains her/his own insurance. Seller assumes no suitability of any of these products as to size, age and other factors largely depend on personal discretion. Products are not regulated by the U.S. Department of Transportation as motor vehicles (except the gas series in some states). Therefore, they do not necessarily comply with the Federal Motor Vehicle Safety Standards. It is the customer's responsibility to check with their local authority since the law varies state by state. Release The User releases SCOOTER KINGS INC, its officers, agents, sponsors and employees from claims, demands and damages (both actual and consequential), of every kind and nature, known and unknown, suspected and unsuspected, disclosed and undisclosed, arising out of or in any way connected with items purchased. Limitation of liability In no event shall SCOOTER KINGS INC or its suppliers be liable for lost profits or any special, incidental or consequential damages arising out of or in connection with items purchased from us or this agreement (however arising, including negligence). Our liability, and the liability of our suppliers, to you or any third parties in any circumstance is limited to the User's cost of qualifying products purchased at the time of entering into the agreement. Qualifying products as acceptable for return as outlined in the return policy. Disclaimer of warranty Product information is provided on an "as is" basis, without warranty of any kind, either expressed or implied, including, without limitation the implied warranties of merchant ability, fitness for a particular purpose, or non-infringement. The entire risk as to the performance of or arising out of the use of products purchased is borne by the User. SCOOTER KINGS INC makes no warranty regarding the accuracy of information about products. All product information is provided by a third party and is said to be true to the best of our knowledge. All product information available to us is made available to the user. Indemnification User hereby agrees to defend, indemnify and hold harmless SCOOTER KINGS INC, its officers, directors, employees and agents, for any loss or damages awarded by a court of competent jurisdiction resulting from any claim, action, or demand, including reasonable attorney's fees, arising out of or related to products purchased on this web site, or the violation of the agreement by the User. Purchasers Responsibility You must inspect all equipment before using it and to take full responsibility for assuring that the equipment is in good working order and safe to use. You further understand that you are responsible for damage to equipment. Purchaser understands the nature of motor scooter riding and motorcycle related activities and acknowledges that Purchaser is qualified to operate said motor scooter, and is in proper physical condition to participate in such activity. Purchaser agrees to assume all risks when allowing others to operate Purchasers scooter. If Purchaser is not familiar with the nature of motor scooter riding, Purchaser should seek professional training before operating a scooter. Inherent Risks Warning! Scooter riding activities involve the risk and danger of serious bodily injury including, but not limited to, disability, paralysis, dismemberment and death. These inherent risks and dangers may be caused by Purchasers own actions or inaction's, the actions or inaction's of others, participating or not participating in the activity, the condition in which the activity takes place, or the negligence of others. There may be additional risks, including fire due to overcharging a lithium battery or fire due to a lithium charger, social and economic loss, either known or unknown to Purchaser, not readily foreseeable, and Purchaser fully accepts and assumes responsibility for all such risks, losses, costs, and damages incurred as a result of Purchasers participation in scooter riding activity. Operation, Registration, and License Purchaser is responsible for registering and operating the motor scooter in accordance with local and state laws and ordinances. Seller makes no representations that the motor scooter is legal for operation in your City and State. Customers have read and understood the use of these products before purchasing. Please contact your direct vendor or contact us with any questions. This shall not act a waiver of any implied warranties which customers retain, as provided by law. When purchasing from or submitting an order to SCOOTER KINGS INC, you acknowledge that you have read and understand our disclaimer, and agree to these as the terms of sale.
Shipping & Warranty:
SCOOTER KINGS INC offers a FULL 2-Year bumper-to-bumper part warranty on the whole E-bike. This warranty covers factory defects and defaults only. We do not cover misuse or broken parts caused by the user or by any other event. If you have questions about our warranty, please e-mail us.  E-BIKES CAN ONLY BE RETURNED WITHIN THE FIRST 30 DAYS FROM THE DATE YOU RECEIVE THE SCOOTER & IT MUST BE IN GOOD CONDITION & AUTHORIZED BEFORE BEING RETURNED. THERE IS A 10% RESTOCKING FEE ON ALL RETURNED ITEMS. We will however during the free part warranty period, provide you with free parts & we pay the shipping cost on the warranted parts to your house. SCOOTER KINGS INC will not be responsible for shipping charges on received or refused packages, part returns, or scooter returns. Freight collect and COD packages will not be accepted. If you bid on this auction and win you will be obligated to follow this warranty to the fullest and this warranty will be present in any further issues if such would arise. Everyone will receive a copy of the warranty with the manual.
Insured shipping & handling fees are FREE to anywhere in the continental USA. If you live outside the USA email us for a shipping quote before you bid. WE INSPECT THE SCOOTER BEFORE PACKAGING & ONCE AGAIN BEFORE WE SHIP IT OUT, ALL FOR QUALITY INSURANCE! We accept all credit cards through paypal or you can call us and pay over the phone.
FOR ANY QUESTIONS AT ALL PLEASE EMAIL US OR CALL US AT 772-232-6394.