( EXCLUDES Alaska and Hawaii )
SHIPPING: 5-8 BUSINESS DAYS
S10 2000W DUAL MOTOR ELECTRIC SCOOTER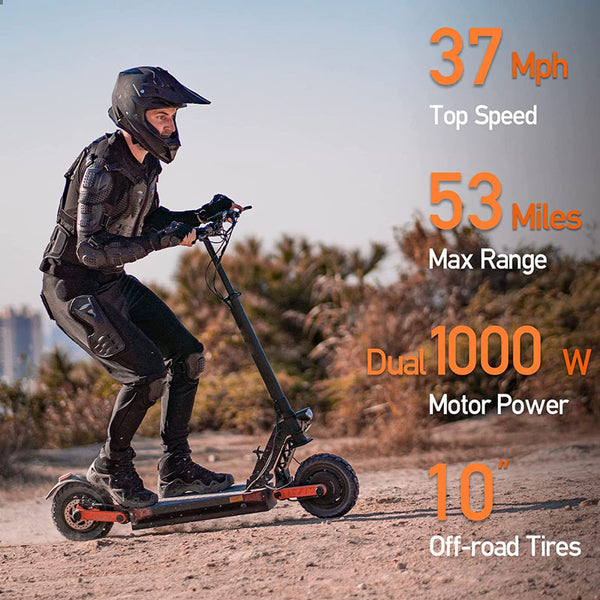 The S10 electric scooter is a powerful and reliable mode of transportation for those who are looking for a high-performance electric scooter. This scooter features a dual brushless 1000W motor that allows for faster acceleration and climbing ability, reaching a top speed of 37 mph and a max climbing angle of 30°. The high-capacity 60V 18AH battery allows for a long range of up to 54 miles under specific conditions, and can handle a maximum load of 265 lbs.
---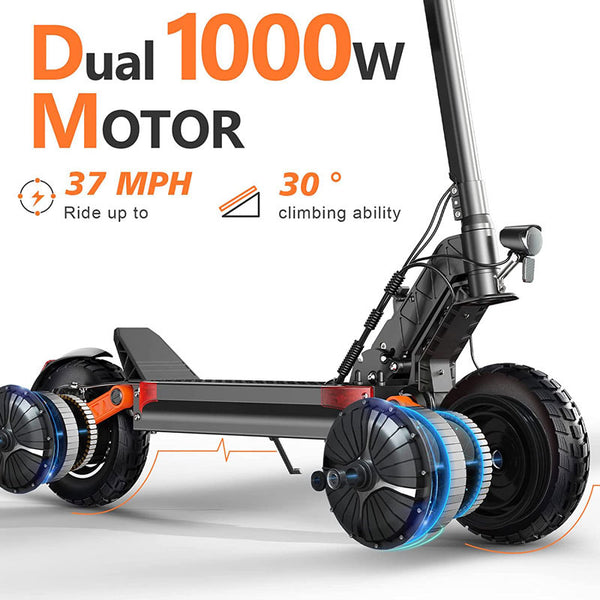 2000W DUAL MOTOR
The S10 electric scooter features a powerful 2000W dual motor, providing an exceptional riding experience for urban commuters and leisure riders alike. With this motor, the S10 can achieve speeds of up to 37mph, making it one of the fastest electric scooters on the market.
---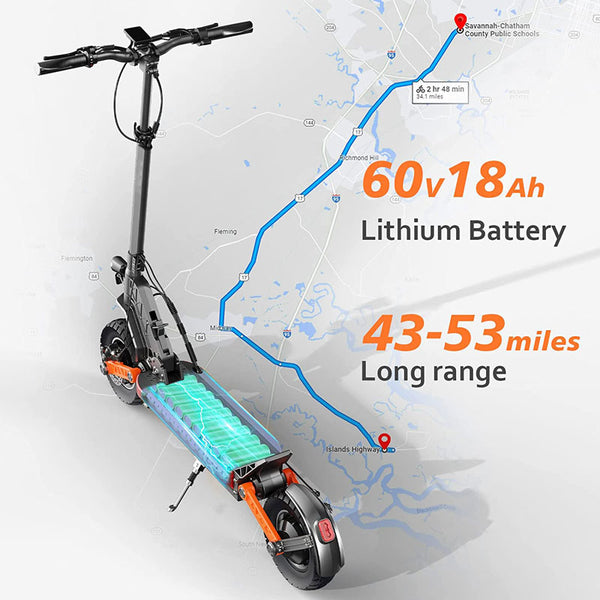 60V 18AH LITHIUM BATTERY
The high-capacity 60V 18 AH battery allows for a long range of up to 53 miles under specific conditions, and can handle a maximum load of 265 lbs.
---
SMART LCD DISPLAY
The S10 electric scooter is equipped with a smart LCD display, which provides riders with a wealth of information and features to enhance their riding experience. The display is located on the handlebar stem, making it easy to access and read while riding.
The LCD display provides real-time information on speed, battery level, distance traveled, and more, allowing riders to easily monitor their performance and manage their ride.
---
HIGH PERFORMANCE & SAFETY
Safety is a top priority with the S10 electric scooter, featuring a dual disc brake system for quick and responsive stopping power, as well as front and rear shock absorbers for a smooth and comfortable ride. The anti-skid pedal design improves safety when driving at high speeds.
The S10 electric scooter provides a comfortable riding experience with wider 10" pneumatic tires and deeper lines for anti-seismic and anti-slip performance, making it suitable for riding on uneven road conditions.
---
LED LIGHTS
Featuring LED headlights and taillights with left and right steering indicators, S10 electric scooter is safe to ride even at night. The stoplight in the rear automatically turns on during braking for a smart and safe ride
---
PORTABLE AND FOLDING DESIGN
The S10-S electric scooter is also highly portable and easy to store, with a foldable design and a weight of only 59.5 lbs. You can carry it on public transportation or store it in your car to get anywhere you want to go. S10 electric scooter can be your perfect commuter transportation to school, work or short journey
---

SPECIFICATIONS:

Max Load Capacity: 265lbs
Frame Material:

 

Aluminum alloy
Dimensions Fold:

 

44" * 24" * 21"
Brakes:

 

Front and rear disc brakes
12 MONTHS WARRANTY

---

Wherever you buy our products, whether in the US, Canada, or from any Nero Cycle outlet or Distributor's store, you have 12 months to request repairs if any vehicle turns out to be faulty or not as advertised. The 12 months warranty period starts from the date you ordered and you must inform the seller of any issue encountered with one of our products within 10 days of discovering the problem.