49cc 2-Stroke Gas Motor Scooter, 35 mph & up to 60 miles per gallon
Free Shipping To The Continental USA
COLORS: BLACK, BLUE, RED, OR SILVER
Brand New 2023 Urban 49cc 2-Stroke Gas Scooter with FRONT and REAR Suspension, which is the newest feature for these scooters. This new rear shock absorbs about 75% more vibrations then the scooters without this new rear shock feature. It is very important to have this rear shock to protect your engine mounting bolts from breaking during riding & it keeps all your bolts on the frame & engine from vibrating loose. This is a huge upgrade & more importantly it makes for a safer riding experience. This scooter now comes in 4 colors, Red, Blue, Black & Silver. These are recreational scooters with no vin #'s or titles.
Improved Features:
High Quality 2023 EPA Approved 2-Stroke Motor
Extra Street Muffler Included
Wide Aluminum/ Steel Billet Deck
Rear Wheel Fender w/ Reflector included
About the New 49cc 2-Stroke Scooter:
You can view an awesome video of this scooter below that will show all the quality parts of the scooter as well as a performance test showing the amazing power of this 49cc 2-stroke gas scooter.
COMES WITH THE ALL NEW HIGH QUALITY 2-STROKE, "2023 USA EPA EMISSIONS CERTIFIED ENGINE. Each scooter will have the EPA certified sticker on top of the engine that is very visible.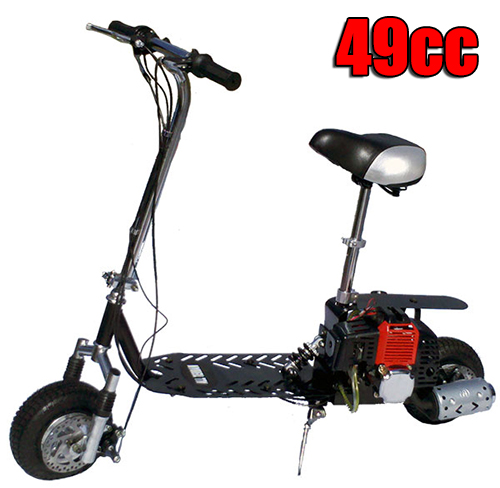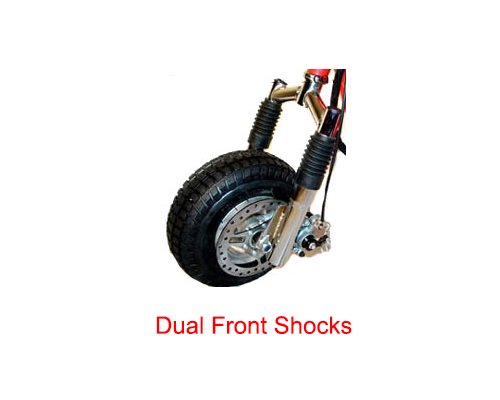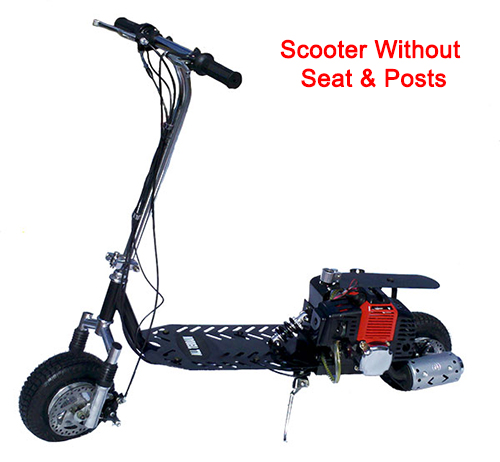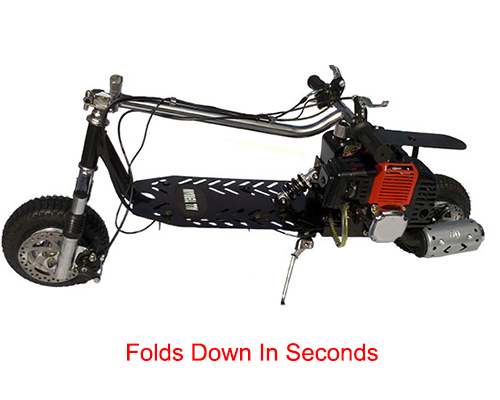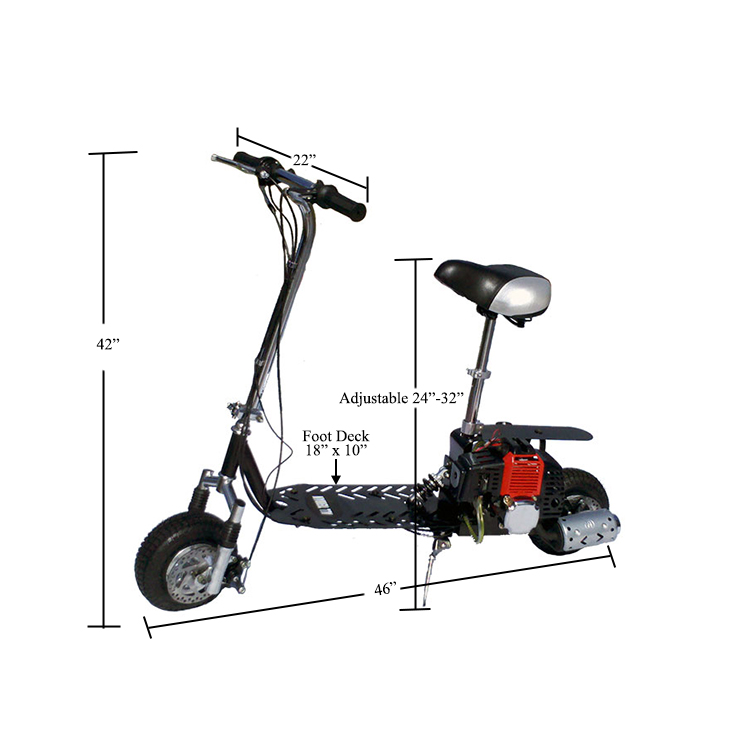 2023 49cc 2 Stroke Scooter Specifications:
Engine:

  EPA Certified 49cc 2-Stroke Single Cylinder Air-Cooled with a centrifugal transmission. Idle speed is 2500 rpm +/- 200rpm (Which means it will never shut off when you are at a stop or idling.)

PULL START:

 

Chrome Covered

BRAKES:

 

Front and Rear Disk

DECK:

 

Solid Metal

TOP SPEED:

 

30-35mph. Based on 150 lbs on flat surface

RANGE:

 18-20

 miles per tank on average (based on 150lbs & flat surface). This means you get 60 miles per gallon (tank is 1/3 of a gallon)

DRIVE:

 

Chain

WHEELS:

 

Alum. Mag Rim

TIRES:

 

9″ X 3″ All-Terrain

TANK CAPACITY:

 

1 Liter Scooter uses 87-93 octane gas mixed with (32:1) High Grade 2 stroke oil.  For better performance us 2 cycle synthetic oil

SUSPENSION:

 

Full FRONT & REAR

FOLDING:

 

Yes

FRAME:

 

High-Tensile Steel

NET WEIGHT OF SCOOTER:

 

50LBS

MAX RIDER WEIGHT:

 

275 lbs.

COLORS:

 

BLACK, RED, BLUE & SILVER
Comes with a REAR REFLECTOR that sits on top of the rear fender for safety purposes
FOR ANY QUESTIONS AT ALL. Please EMAIL US or CALL US AT: 772-232-6394